STURTEVANT AUTOMOBILE REFERENCES


T.J. Sturtevant of the Sturtevant Mill Company , was a keen inventor and built his first automobile in 1902.

Two production models followed in 1904-1907, the 'Automatic Tourer' and the 'Flying Roadster'.

The Sturtevant 'Automatic Tourer' automobile was a seven - passenger touring car with the worlds first automatic transmission. It had a three speed semi-automatic gearbox, and the gears changed by means of centrifugal clutches. It was produced between 1904 and 1908. It is reported to have cost $5,000 in 1906.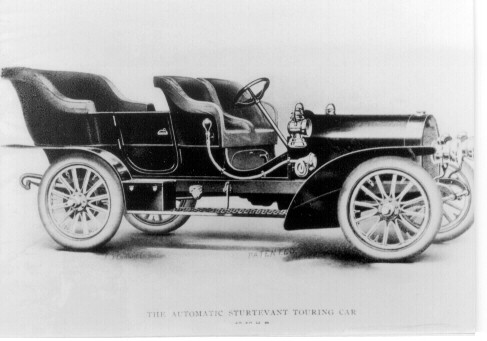 1904- Sturtevant was the first car produced with automatic transmission Ref1. and Ref2.

'Transmissions have come a long way since 1906, when a rudimentary automatic debuted on the Sturtevant , a $5,000 seven-passenger touring car made in Boston.' (Ref3.)

In addition, T.J. Sturtevant published several patents including several for automobile use: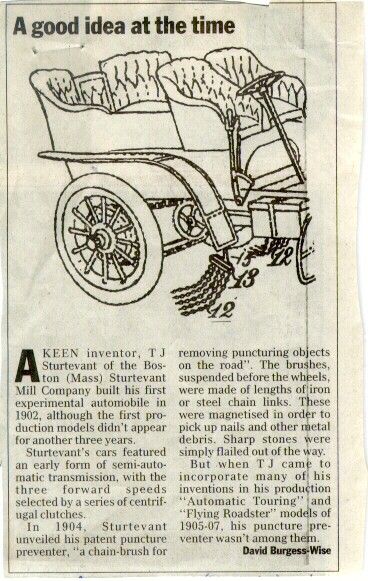 ---
| | | | |
| --- | --- | --- | --- |
| | Custom Search | View Our Guestbook Sign Our Guestbook | |
Last Update 1st February 2010
<!!---------Remember to copy Counter.txt to root, set permissions to 666 and copy digit graphics to digits folder!!>