By the early 1600s, Simon Sturtevant , a water engineer and cleric originally from Market Rasen, Lincolnshire, had an earthenware factory in Islington in north London, and around that time he was involved in the original waterworks at Hatfield House, near St.Albans.
Around 1780, Saunderson Turner Sturtevant moved down to London from Norwell, setting up business as a Tallow Melter, and marrying an Ann Seal about 1786. All surviving British Sturtevants are descended from him.
Richard Lawrence Sturtevant , one of Saunderson Turner Sturtevant's six children, became a Soap Maker, and in 1822 married a Hannah Matthews. He is reputed to have invented Brown Windsor soap , though the present manufacturers (Crabtree and Evelyn ?) cannot substantiate this. He was made bankrupt in 1844. Brown Windsor Soap is reputed to be a favourite of both Napoleon and Queen Victoria! Fine clay is added for deep cleaning. It has a natural, olive green color and spicy scent. There is a recipe on OldSoaps website!
By 1848 the family's engineering bent seems to have surfaced, as a contemporary trade directory refers to a Ben Sturtivant & Co , Electro Gilders of 52 Spencer Street, London. However, by 1859 the directory had replaced this firm by Mrs Hannah Sturtevant & Co , Electro Platers and Gilders of 19 Northampton Square, Clerkenwell, London, and it is assumed that the firm was by then being run by Richard Lawrence's widow. It could well be that as the bankruptcy debarred Richard Lawrence from carrying on any form of business, he set up a fresh company (or companies) in a different trade and under different names, ostensibly run by his wife and family. There is no evidence of an actual person named Ben or Benjamin Sturtevant around that time, so presumably this was a made-up name.
The electroplating business was taken over by the fifth son, Thomas Thorold (born 1835), who appears to have widened the firms activities considerably. By 1905 he had founded Sturtevant & Co Ltd, Electroplaters and Gilders, at 90/92 Clerkenwell Road, London, later moving to 105/111 Euston Road, London. This firm existed until at least 1922, though Thomas Thorold died in 1918. His will shows that he also had 25 per cent shares in a company Besson & Co Ltd, but although he married in 1961 they had no children.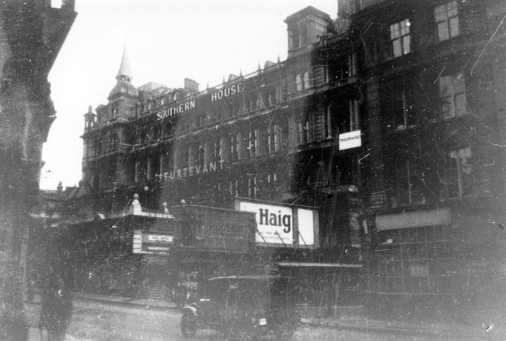 A number of Sturtevant engineering companies existed during the 19th last century, though it is not known who actually started them. By 1888, the Sturtevant Mill Co was operating from 2 Suffolk Lane, Cannon Street, London as Rock Crushing and Pulverising Makers, and the Sturtevant Blower Co existed at 75 Queen Victoria Street, London. The former seems to have been defunct by 1895, but the Sturtevant Blower Co had by then become the Sturtevant Engineering Co , manufacturing Exhausters and Portable Forges, and by 1905 it had been turned into the Sturtevant Engineering Co Ltd . This company manufactured a wide range of industrial exhaust and cleaning equipment, moving to 147 Victoria Street, London, then to Southern House, Cannon Street, London, where the large name "STURTEVANT" could be seen across a building alongside Cannon Street Station in the 1940s. It later moved its headquarters to Brighton, and in the 1960s had branches at many power stations around the country. Sturtevant Welbeck Ltd was incorporated in 1949, and had its registered office at the same address in Brighton by the 1980s .
There have been a number of offshoots in recent years. By 1966 Sturtevant Air Treatment Ltd was operating at Birmingham from the same address as a local branch of the Sturtevant Engineering Co Ltd . From 1976 Sturtevant-Roote Ltd were in business as Process Engineers at Hadleigh, near Ipswich, and pollution control at power stations was being been undertaken from about 1981 by the Sturtevant Gas Cleaning Co Ltd of Mallinson House, Chase Road, London N4. Sturtevant Engineering Holdings Ltd was set up in 1947, and by 1982 was at Hamlyn House, Highgate, London, and also Northumberland House, 1379/1401 High Road, Whetstone, London. By that time there was also Sturtevant Engineering Products Ltd , which had an ordnance fan works, and also a development and test laboratory, at Manchester, as well as a foundry division at Stalybridge on the outskirts of Manchester.
In 1987 the official Companies Register listed the following:
Sturtevant Engineering Holdings Ltd (Regd No.442545), registered office Hamlyn House, Highgate Hill, London N19 5PS. Incorporated 22.9.47.
Sturtevant Welbeck Ltd (Regd No.469160), registered office Westgate Road, Moulcoomb Way, Brighton, Sussex BN2 4QB. Incorporated 31.5.49.
Sturtevant-Roote Ltd (Regd No.1271135), registered office Unit 42, Lady Lane Industrial Estate, Hadleigh, Suffolk IP7 6BQ. Incorporated 30.7.76.
Sturtevant Engineering Co Ltd (Regd No.1758251), registered office Westgate Road, Moulcoomb Way, Brighton, Sussex BN2 4QB. Incorporated 3.10.83.