STURTEVANT AERO ENGINES


As well as the aircraft production the B.F. STURTEVANT COMPANY also designed, developed and produced a number of high quality, high performance aero engines: (as listed again in aerofiles ):

Sturtevant B F Sturtevant Airplane Co, Jamaica Plain MA.

Engine Types: (8VW signifies 8 cylinders in V configuration and water cooled, 4LW signifies 4 cylinders in-line water cooled)
1913 - 40hp 4VW.
1913 - 60hp 6VW.
1915 - D-4 50hp 4LW.
c.1916 - V-8 140hp 8VW.
1917 - 5A 140hp 8VW.
1919 - 5A-4-1, 5A-4-2 210hp 8VW.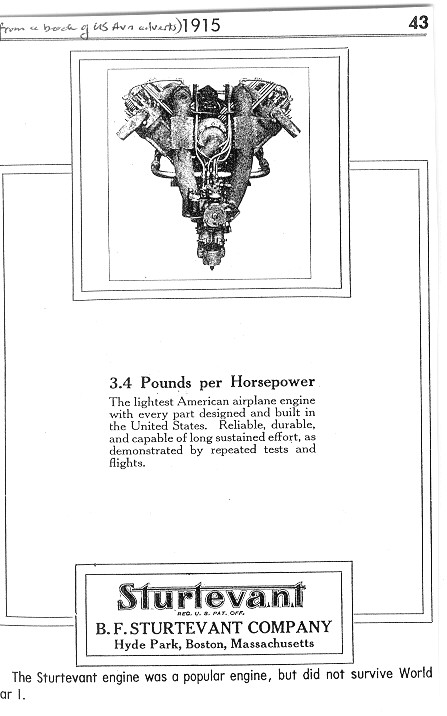 ---
THE STURTEVANT 5A ENGINE
The Sturtevant 5A engine of the 1916-1917 period, rated at 140 horsepower, was installed in the Sturtevant S-4 and some L.W.F. V-1 training airplanes used by the Signal Corps at North Island, Calif., and Mineola, New York. Neither of these airplanes was too successful and they were soon replaced by the Standard J-1 and Curtiss JN-4 trainers. Part of their difficulty resulted from the 5A engine which weighed more than 3.5 pounds per horsepower.

A Sturtevant 5A engine is on display at the USAF Museum Engine Gallery at the USAF Museum on Wright-Patterson Air Force Base, Dayton, Ohio, USA.
(Engine No 1)



---



THE STURTEVANT COMPANY AEROPLANE ENGINE



A Sturtevant Company Aeroplane engine (Engine No 2) is owned by the subsiduary of the Smithsonian Institute, the

Henry Ford Museum and Greenfield Village
P.O. Box 1970
Dearborn, Michigan 48121-1970
(313) 271-1620
Click here for the Reference

It is presently in storage.
Museum catalogue ID: 39.9.5
Object(s):Airplane Engine
Maker/Loc:B.F. Sturtevant Co.; Boston, MA
Date: CA.1917
Remarks: Sturtevant Airplane Engine, 8 cylinders, Vee type, water cooled, 140 H.P., high speed engine with two magnetos inside Vee.
Condition Fair (07/09/1997)
Dimensions
length 56 IN
height 32 IN
depth 36 IN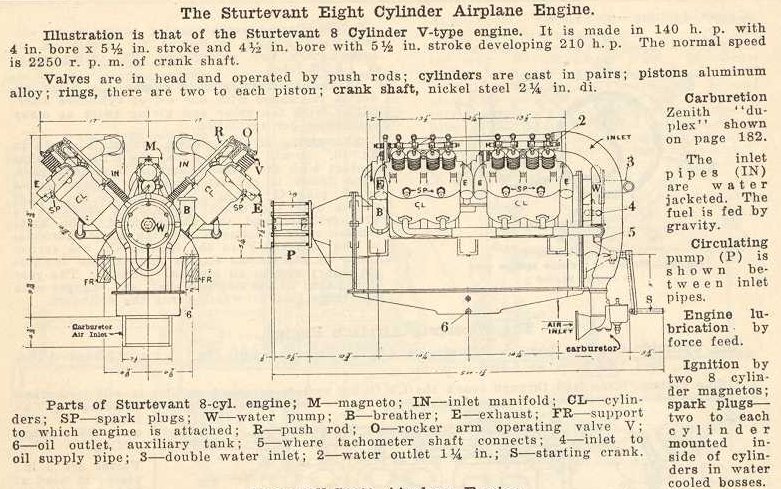 Scan of a page from 'DYKE'S AUTO & GAS ENGINE ENCYCLOPEDIA 1918'
Courtesy of Linda Diggs (from her late sons book collection). Many thanks.
By pure coincidence Linda's Grandmother's maiden name was Sturtivant and the family came from England to America!

---
---
PRIVATE OWNER ENGINES
The photographs of the two engines above are shown courtesy of the owner, Aviation Collector Joe Gertler in Florida.
The first is for the Sturtevant engine with the L-head valves (Engine No 3) and the second picture is the engine with the overhead valves (Engine No 4). Both versions are 140hp from around 1917.


---

There are two Sturtevant aero engines in Australia reported by Australian Aviation Writer Dave Prossor.

Engine No. 5 is a Sturtevant Model 5A owned by Dave: The engine was apparently brought into Australia sometime after WW1, probably for use as a speed boat engine. It was water cooled, had a lot of torque and had power. The prop hub was cut off but then the project seemed to die as it was never used as a boat engine. It was acquired by Dave some ten years ago (around 1991?) with the intent of having it rebuilt to running standard but not for aircraft use. It is too valuable to risk losing!

Engine No. 6 is a Sturtevant Model 5 and is held by the Victorian State Museum in Melbourne (?), Victoria, Australia. It differs from my engine by a few features but one can see the family resemblance. It's history is obscure but it is understood that it was brought into Australia during WW1 as the power plant for a delta wing type aircraft. The aircraft apparently did not fly but the engine was later used as a ground training aid by the Air Force.

Engine No. 7: Dave reports that there is one in England that was bought in California. The UK engine is to be used for an Edwardian car project.

---

The engines were also used in other aircraft.

One in particular was significant. In 1916 The LWF 2 seater Army observation and trainers used both the 140 bhp (LWF V-1) and 200 bhp (LWF V-3) V-8 Sturtevant engines



After the First World War, representatives of the Czechoslovak Legions came to the USA to procure aircraft for their troops, who were hoping to keep the White Russian forces from being overrun by Red revolutionaries. When the aircraft arrived, they were not the modern types ordered, but 28 well-worn LWF Model Vs. With nothing better to hand, the Czechs made good use of the aging aircraft as they retreated acoss Siberia. They left from Vladivostok in 1920 and returned home. (ref Aerofiles )

One of their trusty LWF s is still preserved and hangs from the ceiling of the National Technical Museum in Prague . This aircraft is fitted with a Sturtevant V-8 engine I believe it is a model 5A (Engine No 8). (I am trying to obtain more details, if anyone can help?)

The Martin Model TT was a 2 seater trainer in 1913 which was fitted with the 135hp Sturtevant engine.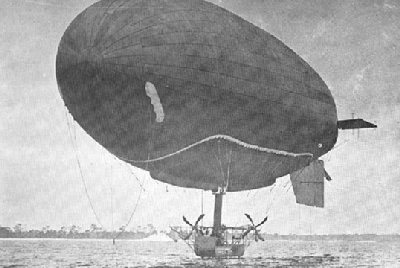 The engines were also fitted to the first US Navy Lighter Than Air (LTA) Dirigible, Airship DN-1 in April 1917:

DN (Dirigible Non-rigid 1). Built by Connecticut Aircraft Company.
Length 175 feet. Hydrogen capacity 150,000 cu.ft. Very limited endurance.
It was powered by two Sturtevant engines. The Airship was a failure and completed only 3 flights - it was reported DN-1 was grossly overweight, leaked considerably, and was severely underpowered! It could barely get airbourne! Due to overweight one engine was later removed.


---
| | |
| --- | --- |
| | |
---
| | | | |
| --- | --- | --- | --- |
| | Custom Search | View Our Guestbook Sign Our Guestbook | |
Last Update 1st February 2010
<!!---------Remember to copy Counter.txt to root, set permissions to 666 and copy digit graphics to digits folder!!>